Sorry for the belated post on this topic. I have been working my tail off at the IT Dept. Not only do we have to do unpaid overtime, but they are replacing our 80-20 health insurance plan with a 60-40 one. And they raised the company rates. Its bad now, but I heard it's going to double or triple after they pass this gov't takeover of Medicare. But I digress, since I wanted to talk about Sarah Palin, so here's this post that I have been mulling over for about two weeks.
********************************************************
The hits keep coming. Another kick in the gut. This has been one tough month for this tough mother of five who is definitely not a
whiner
.
First, mean ole Rahm Emanuel, in a behind the scenes slur of liberal groups, uses the R-word. This slur is reported in some obscure Washington publication. Thank God for Sarah's Facebook page....without it, this slur would never had been heard by 99% of the country.
Then, the
liberal media
forces Sarah to respond to Rush Limbaugh's deft use of satire. She calmly and reasonably explains that he's a satirist. Thus, you just cannot get
offended at a satirist
.
That would be silly
.
Then, her daughter (I forget which one) is told that this heathen show Family Guy viciously attacks Trig Palin. I will spare you the video link, and instead describe the inhumanity on display by the Family Guy "writers". The story involves one of the main characters going out on a date with a girl born with Down Syndrome. Then the girl says that "her mother is the former governor of Alaska"!!!!! I know, how awful, right???!!! Why must they try to link Palin's family with this character who was born with Down Syndrome, going on a date, being self sufficient, and having adult conversations. For the Family Guy "writers" to viciously attack Trig Palin in this way is unforgivable.
Well, even after the Palin's called them out on their insensitivity, the "actor" behind the voice of this character attacks the Palins once again. This liberal activist
expresses her disdain
for Real Americans by bringing up Trig again.
My name is Andrea Fay Friedman. I was born with Down syndrome. I played the role of Ellen on the "Extra Large Medium" episode of Family Guy that was broadcast on Valentine's day. Although they gave me red hair on the show, I am really a blonde. I also wore a red wig for my role in " Smudge" but I was a blonde in "Life Goes On". I guess former Governor Palin does not have a sense of humor. I thought the line "I am the daughter of the former governor of Alaska" was very funny. I think the word is "sarcasm".

In my family we think laughing is good. My parents raised me to have a sense of humor and to live a normal life. My mother did not carry me around under her arm like a loaf of French bread the way former Governor Palin carries her son Trig around looking for sympathy and votes.
The audacity to once again attack Trig. No, Andrea, Trig is not a loaf of bread. Shame on you for suggesting that he is. You, for one, should know better that children born with Down Syndrome are to be cherished, and not compared to food. And how dare you attack Sarah Palin's sense of humor?? I am waiting on a former apology to Sarah Palin, her son Trig, and the entire Down Syndrome community by this vicious liberal activist!!!! This, my friends, is the face of liberal Hollywood.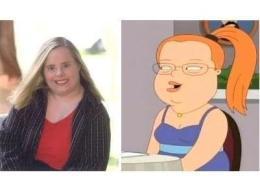 Sorry, all I have is a picture of this activist. If I could find an email for you to direct your ire, I would.